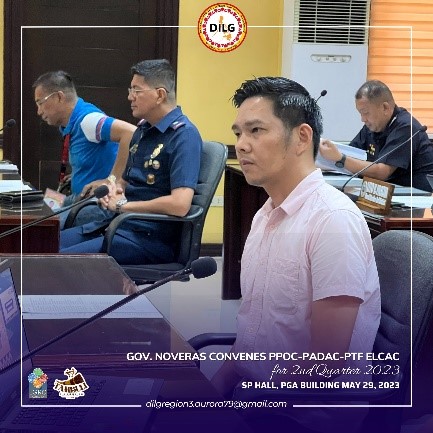 With the goal to discuss and address issues related to the peace and order, insurgency, public safety and drug abuse prevention and control in the province, the Provincial Peace and Order Council (PPOC) and Provincial Anti-Drug Abuse Council (PADAC) and Provincial Task Force on Ending Local Communist Armed Conflict (PTF-ELCAC) of the Province of Aurora headed by Chairperson, Governor Christian M. Noveras convened for the 2nd Quarter of 2023 on May 29, 2023 at the Sangguniang Panlalawigan Hall, Provincial Government of Aurora.
 Under the leadership of Governor Christian M. Noveras, the board evaluated projects and programs being implemented in the Province, located gaps and problems, and talked about solutions to address such.
Regarding DILG programs, OIC-PD Ener P. Cambronero, CESE, informed the councils regarding the Retooled Community Support Program (RCSP) implementation in the target barangays for the 2023 RCSP. He also presented the SBDP implementation status in the Municipalities of Maria Aurora and San Luis. Also presented were the results of the recently concluded POC and ADAC Audit for the 8 Municipalities.
Aside from the presentation on the peace and order and public safety situation in the province, Maritime Safety Updates in the Province were also delivered by Philippine Coast Guard. Other important topics discussed were Updates on Traffic Management, Updates on Construction along San Luis – Maria Aurora Road by DICT and Updates on the Status of Anti-Illegal Logging and Forest Coverage by DENR.
Present in the meeting are mandated members of the councils composed of representatives from the PNP, AFP, BFP, PDEA, Aurora Province Department Heads, representatives from the MPOCS/MADACs, and representatives from concerned national government agencies.
DILG Aurora served the overall secretariat in the meeting. Present are LGOO II Gerald Philip DC. Esteves, ADA IV Gerardo M. Gonzales, PEO II Denn Jennings Angel M. Oviatt and PGA-POC Secretariat, Marianne Q. Faraon.